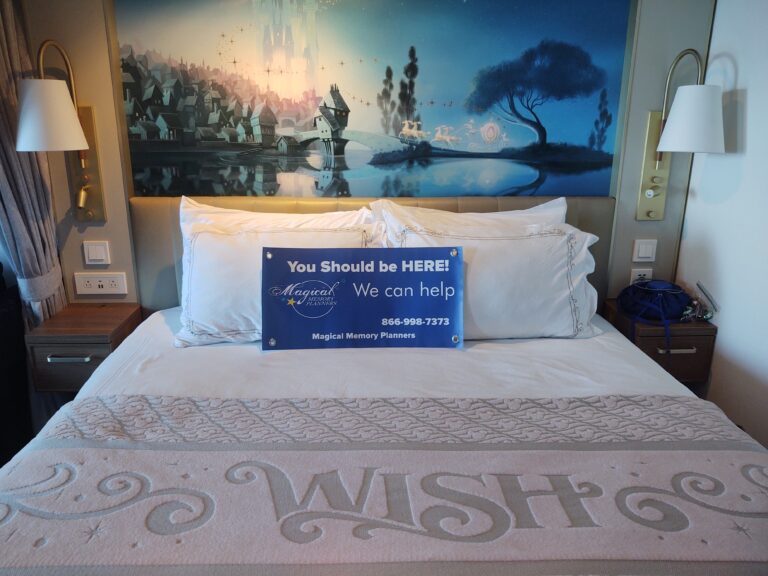 Thinking that a Disney Cruise may be in your future? Disney has an amazing fleet of cruise ships. The fifth ship in the fleet is the Disney Wish and although it has some similarities to the other Disney ships, they have decided to shake things up a bit on this one. We went on board to see what's new. Listen and find out five things that are unique about the Disney Wish.
Disney Wish Staterooms
Although the size and layout of the staterooms are similar, including the split bathroom, you will find a very different look in the Disney Wish staterooms. First, the color scheme is a calm and relaxing, light-colored pallette. This gives the rooms a very luxurious and spa-like feel.
Second is the theming. There are eight different themes for these rooms. They no longer have "fish" extenders, but "wish" extenders and they are different too. On Decks 2, 6 and 7, you will see a carriage in the hallway for the wish extender and the rooms will be either Cinderella or Frozen-themed. On Decks 8 and 9 you will find an owl for the wish extender and themes to be Princess and the Frog or Sleeping Beauty. Decks 10 and 11 have a shell for the wish extender and are themed Moana or the Little Mermaid.
The concierge staterooms on Decks 12 and 13 have suns to go with their Tangled theme, but there are a few rooms with a crown wish extender. The crown wish extenders are for the one and two story Royal Suites and have a Princess Aurora or Briar Rose theme.
Disney Wish Rotational Dining
As in classic Disney Cruise Line tradition, the Wish has rotational dining. The difference is there are three new restaurants. This is an exciting change since that also means new menus AND new experiences. 1923 is the more formal option for a classic Walt Disney experience. World of Marvel will bring technology to life and give you a unique dining experience. Arendel – A Frozen Dining Adventure brings a whole new dining and entertainment experience.
Disney Wish Adult Dining
The adult dining options have changed as well. There are a few new lounges, such as Enchanted Sword Cafe, Keg & Compass, Star Wars: Hyperspace Lounge, and the Bayou (with beignets), to name a few. But, what is really exciting is the two new adult specialty dining locations. Palo has changed to Palo's Steakhouse. With a nod to the original Palo, this new location is a steakhouse. I believe the famous chocolate souffle is still on the menu, though.
There is also an all new restaurant called Enchante by Chef Arnaud Lallement. This is a nod to Beauty and the Beast. You can also enjoy a drink before or after dinner at The Rose. These locations offer brunch on sea and Nassau days and dinner every night. They are adult only, have a surcharge, require reservations, and have a dress code.
Disney Wish Entertainment
There is a lot to say about the new entertainment, including two movie theaters instead of one, BUT what I really want to highlight is the 2 new Broadway style shows. The first night of each sailing on the Wish features Disney Seas the Adventure. This original show starts with Captain Minnie and includes many old friends and familiar songs. It is the perfect way to start your cruise.
The second brand new show is Disney Little Mermaid. You may know the story and the music, but you have not seen this show before. It is a great familiar classic and what better place to see it than at sea!
Like on the other ships, there are shows timed to your dinner rotation, so everyone has a chance to see the show. Don't worry, you can still enjoy pirate night and a great sail away party.
Disney Wish Oceaneer Club
This is a highlight of the Disney fleet and really sets them apart from other cruise lines. On the Wish, the Oceaneer Club is all on Deck 2. Well, don't worry, they still have the amazing hand washing stations, but they have the best entrance in the cruise line industry. You can now go "down the rabbit hole" from the Grand Hall on Deck 3 and slide right into the Oceaneer Club. Yes, adults can do it too during open house hours! Not a fan of the slide? You can also use the traditional entrance on Deck 2.
The Disney Wish is sailing round trip from Port Canaveral on three and four-night Bahamian Sailings. Three-night sailings typically depart on Fridays and four-night sailings typically depart on Mondays. Both itineraries stop in Nassau, Bahamas and Castaway Cay with the four-night sailing having an additional day at sea.
Thinking a Disney Cruise may be in your future? Our Magical Memory Planners love to help plan the perfect itinerary for your family and budget.
Contact us today and we can help get the Magic ready to sail.