Recently I had the pleasure of traveling on Royal Caribbean's Navigator of the Seas out of the port of Miami. I love flying Southwest because their amenities suit my needs so I flew into Fort Lauderdale and stayed at the Hilton Garden Inn the night before the cruise's departure. The Hilton offered a free shuttle from the airport to the hotel and I made sure to book a room that included breakfast.
Helpful Hint #1: Fly to your port the day before your cruise departs. You do not want to miss your cruise due to a delayed flight.
Boarding the Ship
My pre-arranged transportation from the hotel to the Port of Miami for the next day gave me peace of mind so that I could explore the area, get dinner and enjoy a good night's sleep. The next morning we were dropped off near the escalator to enter the port terminal and were quickly on our way to our adventure!
I was in awe of the state-of-the-art Royal Caribbean cruise line terminal in Miami. Talk about efficient! We literally "cruised" through check-in and security and were on the ship in less than 15 minutes.
Helpful Hint #2: Download the Royal Caribbean app ahead of time. The app provides everything you need to know and you can use it to check into your cruise. I was even able to upload a photo to my boarding pass before the trip. This provided an even more efficient boarding process!
Getting the Lay of the Land
Our smooth boarding meant we were ready to explore the ship and eat! The Windjammer Café was perfect for lunch because rooms are not available for occupancy until 1 p.m.
Helpful Hint #3: Remember that anything you carry on board will be with you until your room becomes available. Your luggage will not be available until later after luggage delivery, which can be as late as 4 p.m. If you want to use the pool, for example, you need to have your suit in the bag you carry onto the ship. No worries about beach/pool towels! Just use your sea pass to check out as many as you need.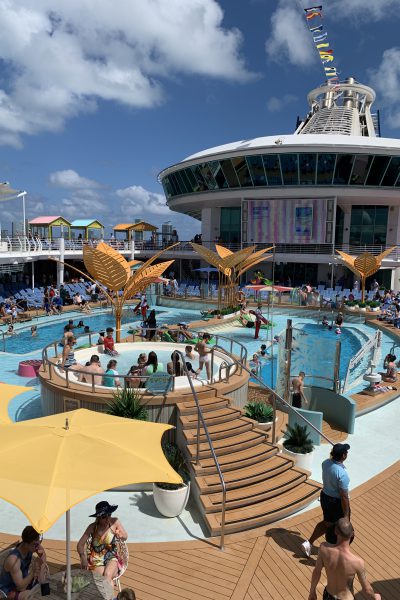 After lunch, which included numerous options, we decided to explore the entire ship to get the "lay of the land" and decide what would go to the top of our "must do" list!
Helpful Hint #4: Don't start loading your plate with the first thing you see at the buffet. There are often numerous buffet stations with too many choices to try. We found it better to "tour" the buffet and then make our selections.
This is a good time to note that the "we" to whom I have been referring to is me and my best friend. This was her very first cruise whereas I consider myself to be a fairly seasoned and experienced cruiser. Our mutual first impression of the ship was wow! We were both in awe of it.
Every level felt like a self-contained, all-inclusive resort! We could not believe all the activities and opportunities that were available. Two giant water rides—an aqua coaster and a head-first mat water slide—dazzled our minds with their curves that went right off the ship and over the ocean! There was a FlowRider, rock wall, miniature golf course, basketball court, running track, kids' splash area and two hot tubs. There was also a pool and two hot tubs dedicated just to adults.
Helpful Tip #5: The FlowRider had virtually no line on the first day. Enjoy this opportunity to try it before everyone discovers its location.
The fitness center was expansive with a dedicated aerobics area as well as many weight machines, treadmills and versa climbers. And the spa! What's not to love about a full-service salon/spa? Just walking through the doors and inhaling the fresh scents of kelp and seaweed treatments made us breathe deeply and feel relaxed. It didn't take us long to sign up for our indulgences! Later in the week I enjoyed an absolutely amazing reflexology treatment while my friend relaxed with a Swedish massage. We could have stayed there all day just checking out the spa, but we knew there was so much more we needed to see. During our exploration of the ship, we also saw laser tag, ice skating and an escape room!
Enjoying Our Balcony Stateroom
When the announcement was made that the rooms were ready, we immediately headed to level 6. I could hardly wait to see our balcony stateroom and could not believe how spacious the room was.
We had our very own private balcony with a small table and two reclining chairs for the next five days. Enjoying the view of the sun rising over the ocean while sipping our coffee was the best start to each day!
The balcony became our go-to spot throughout the week for a few minutes of afternoon quiet time, a pre-dinner snack, a nap, time to read our books or to simply enjoy gazing into the blue water. Our balcony provided our first views of the approaching ports and our last views of the beautiful ports where we spent two fabulous days.
Helpful Hint #6: Book the balcony room. You will not be disappointed!
Exploring & Excursions
Our first stop was in Nassau and while I was learning more about the ship to help my clients, my friend took advantage of a snorkel tour. In the evening, we indulged on a sunset cruise tour. Our knowledgeable guides regaled us with tales of the history of the island and pointed out the houses of the rich and famous. The boat then turned to make its way back to our ship as we watched the most beautiful sunset.
Helpful Hint #7: Book shore trip excursions. My friend was on a snorkel tour with only 10 other people. Talk about a personalized experience! You can book a tour through the ship, but there will be 40 to 50 people in your group.
During our cruise we also made a stop at Perfect Day at CocoCay, Royal Caribbean's private island. There is so much to do there and all of those details are a post for another time.
Fortunately, I did not need any medical attention on this trip. However, there were two passengers who required immediate medical attention above and beyond what the ship was able to provide. The Coast Guard helicopter made two separate flights to our ship to make sure those individuals quickly received their needed care. Both incidents were handled very efficiently and professionally reassuring us that even in an emergency Royal Caribbean has everything under control.
I had a wonderful time on the Navigator of the Seas and can help you plan and book your next cruise vacation. Contact me to get started!